Italian braking specialist Tarox has released a 400mm two-piece disc and bell, complete with a sixteen piston caliper for the Audi RS4 B7. Each kit is hand-assembled in Tarox's Italian factory.
The rotor is machined from solid billet steel, making for a disc that will withstand much greater heat cycling without distortion. A precision-machined alloy bell features hexagonal design detailing around its circumference offering improved cooling and heat-loss characteristics. All components bolt to the existing OEM mounts, integrating with factory ABS systems as a bolt on upgrade.
Owners can choose from either the Strada street pad, for all-round press-on driving, or the Corsa circuit-focussed pad. Thanks to a reduction in weight over the factory parts, despite the increased disc size, the Tarox kit also assists in reducing unsprung mass.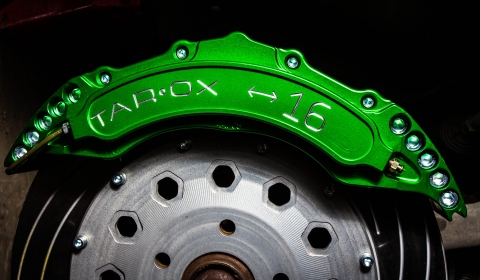 Many varied anodised colour options are available, allowing owners to choose from subtle black or grey, for those looking to achieve 'OEM+' subtlety, or lurid green and red for those that clearly aren't. The complete kit is priced at £3,995 plus VAT and includes all fittings, lines and fluid, ready to be mounted.