British organizer Supercar Drive Days has released their plans to start Bugatti Veyron driving experiences in 2013. A Veyron will be available over a short amount of time. The hypercar is limited to 17 days on a two mile runway and 340 Clients over the 7 months from April to October.
Interested customers will be met at the gates of Bruntingthorpe Airfield and Proving Ground. They will be chauffeured to the hospitality tower next to thea airfield where they will sign-on and be offered light refreshments. Three packages are available costing £2,495, £1,895 and £795.
The first package offers one instruction lap, and three laps in a Mercedes AMG 63 or BMW M3. You also get three laps in an Aston Martin DBS, Ferrari 458 Italia, and McLaren MP4-12C. The final part of the day is the drive in the Veyron.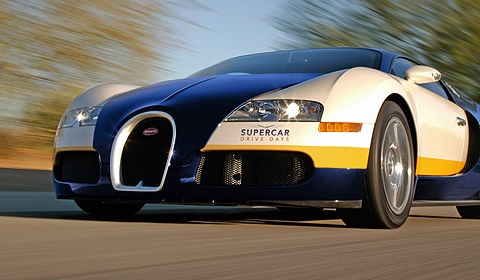 The customer will drive the two mile straight reaching speeds of over 200mph. The final part of the day are two hot laps in an Ariel Atom 300 Supercharged. The second package offers a similar experience, but lacks the three laps in the 458 Italia.
The third package is totally different and only includes a passenger ride in the Veyron reaching up to 200mph. The experience will be finished riding along in an Ariel Atom 300 Supercharged.
The organisation can offer exclusive jet and helicopters charter to the venues. If clients want to be collected from the major airports, this can be arranged with hotels.
More information here!