UK tuner Litchfield Motors has launched a new suspension enhancement kit for the 'Toyobaru' that it has developed exclusively with the suspension manufacturer, Eibach. The new kit has been designed to be fully compatible with all variants of the BRZ, GT86 and FR-S. The upgrade consists of uprated springs and adjustable anti-roll bars.
Although the new spring kit can be fitted in isolation, owners looking for more will also have the option to opt for Litchfield's custom front and rear anti-roll bar set up. The bar features a new geometry developed by Litchfield's engineers and is fully adjustable with two individual settings to allow owners to set the car up to suit prevailing weather or track conditions – or personal preference.
The thicker rear bar reduces body roll through increased design stiffness over the OEM part. They are manufactured from cold-formed, high-strength aircraft-grade steel and finished with the Litchfield Blue powder coat finish to match the springs. The anti-roll bar comes complete with all new bushes.
According to Litchfield Motors, the kit offers much more accurate 'telegraphing' of information between the chassis and the driver, increasing driver confidence, increasing turn-in, ensuring a perfect transition from neutrality to oversteer and creating a more stable high-speed platform, particularly over undulating surfaces.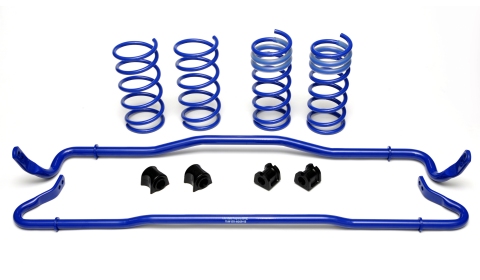 The Litchfield Handling Kit has a five-year warranty on all components. The springs are priced at £204.35 plus VAT and the pair of adjustable anti-roll bars are £329.00 plus VAT.
For more information on the program for the Subaru BRZ / Toyota GT86 / Scion FR-S read our road test!