Following the launch of the new model generation Range Rover, Hofele Design has released their offering for the new luxury SUV. They named their kit; the Royster GT 500.
The front bumper will get an additional front spoiler and on the side, new designed door panels with "bubbles", to hold off dirt from the doors. The front grille and rear apron diffuser received a matt black styling. The SUV rides on new Hofele designer-wheels called Reverso II in the sizes 9.0×20 inch front and 10×22 inch rear.
At the rear, the four end pipes of the stainless steel exhaust have interlaced double oval style. The tailpipes replace the original tailpipes and are bolted onto the serial Range Rover mufflers. The interaction of the four-tube tailpipes with the wider diffuser rear apron makes the rear of the Range Rover look very powerful, according to the German tuner.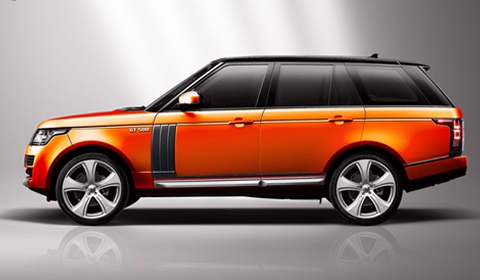 The interior has a dual color leather design named Star-Light with an inserted leather crest, quilted elements and offset decorative stitching. The German sales price for the set is €3,900 including VAT.
The electric lowering module lowers and lifts the Range Rover. Up to a speed of 80km/h, the SUV is lowered 40mm. At speeds over 80km/h, the module is deactivated and the Range Rover will retain its serial height.
The engine tuning offers a rise up about 20 percent. Hofele Design increases the power of the Range Rover SDV8 4.4 liter from 339hp to 410hp and the torque from 600Nm to 720Nm. Other packages have not been released.