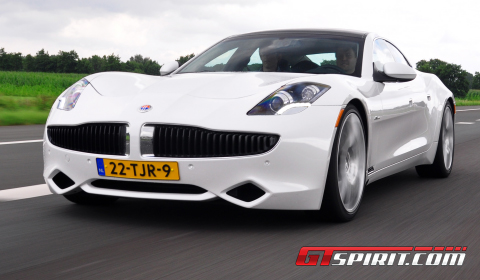 The last few months have been tough for Fisker, what after losing 16 Karma's to Hurricane Sandy and handfuls more to fire, it couldn't get much worse for the start-up. But bad news seems to come in bunches, it seems. Earlier this week, A123 Batteries filed for bankruptcy. Why is that a big deal?
It wouldn't be, except that A123 is the sole supplier of batteries for the Fisker Karma. This comes as Fisker is gearing up to debut the Karma to the Chinese market — a market that could easily spell millions of dollars in sales if handled properly. Both A123 and Fisker have received assistant from the United States government in the past, in the form of government loans for "green" projects. Fisker has received a reported $193 million of their landmark $529 million government loan, with the remainder of the money being frozen in February after questions arose as to why much of Fisker production was being outsourced to Finland, after promises it would stay in the United States.
This current battery scenario puts Fisker in a stuff situation, although not one entirely unforeseen, as they relied on a sole supplier for a vital component of their production. A123 is reported to be restructuring and will hear bids from competitors early next month. Until then, Fisker has stopped production of the Karma, earmarking any remaining batteries to be used as replacements for existing customers.