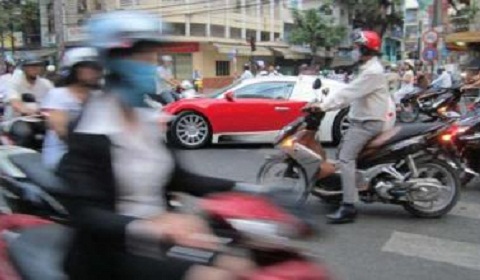 As many of you know, GTspirit.com has a diverse following. With the exotic car market reaching new shores nowadays and a growing number of worldwide visitors, we thought we would share a few photos from different part of the world. Our first destination? Vietnam of course!
As you will be able to tell from the title of this post, Vietnamese car culture can, at times, be rather bizarre. With an estimated 87.8 million inhabitants, Vietnam is the world's 13th-most-populous country. Its economic growth has been among the highest in the world since 2000, however, high levels of income inequality mean that only the very rich can afford supercars.
In the gallery you will see the variety of different cars and the roads on which they can be found highlight the inequalities. It is fantastic how you can see a Bugatti Veyron cutting through the throng of scooters, or a Lamborghini Aventador being worked upon at the side of the road with the mechanic actually sitting on the of the car.
The reason we've named this series 'Supercars in Strange Places' is because normally Western petrol heads would expect to see cars like this outside the local five star hotel or in a showroom being doted on. Yet the entire gallery above shows a passion beyond this. You'll see Mercedes McLaren SLR's being unloaded at the port, a Maybach or two on badly surfaced roads, a couple of Ferrari 458 Italia's on stone surfaces and even a Lamborghini Aventador being transported by wooden boat! These will seem like strange places to find supercars for many of our readers!
Thanks to Nguoi dep va Sieu xe and Chung Niem Dam Me for offering such a unique insight into Vietnamese car culture!