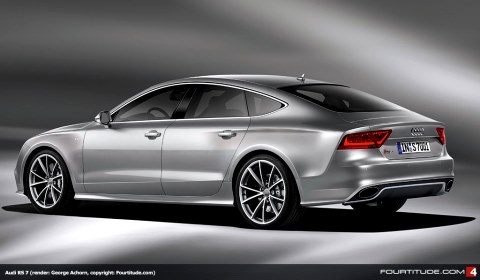 Back in 2010 renderings of the Audi RS7 were circulating widely with designers such as Adriano Mudri presenting their renderings. Recently and just prior to the Los Angeles Auto Show guys at Fourtitude.com have produced a series of Photoshop images showing how the RS7 will look like based on the various spyshots from the test mules.
Many anticipate that the Audi RS7 will feature an upgraded electronic system including revised settings for the suspension, steering, S-tronic transmission and rear sport differential. Power is predicted to be from Audi's new 4.0 TFSI biturbo engine with power surpassing the 500hp mark. That engine should be mated to a ZF eight-speed automatic gearbox since Audi's seven-speed dual-clutch transmission can't handle the large amount of torque expected from this engine.
It should perform better than the RS6. A high ranking Audi engineer has stated that they intend to bring back the raw power from the first RS6. However, official details of the car are yet to be announced and we know nothing of its planned debut.