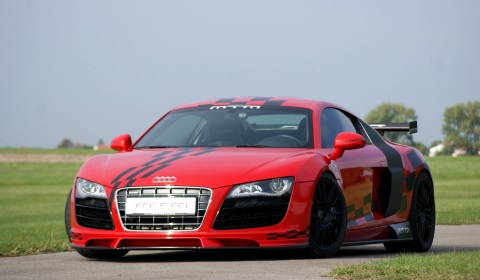 MTM's Audi R8 V10 Roadster graced our front page some time back in a road test of the German sports car. They continued their work and did a similar tuning job on this red 2012 Audi R8 V10 Coupe that features black racy livery completed by black finished wheels and a black rear spoiler.
An ECU upgrade to the 5.2 liter V10 engine changes the boost power from 525 to 606hp at a 8,000rpm, while torque goes up from 530Nm to 560Nm at 6,500rpm. The time 0-100km sprint drops from 3.9 to 3.5 sec for the Coupe, and from 4.1 to 3.7 sec for the heavier Spyder. Top speed of both versions is 322km/h, up from 313km/h.
MTM Bimoto forged alloy wheels were fitted sizing 9.0J and 11.0J x 20 inch, shod in 245/30ZR20 and 315/25ZR20 Michelin Pilot Sport Cup tyres. The Germans also installed a high performance brake upgrade that uses 380x34mm vented discs in front, clamped by eight-pot alloy calipers. The factory rear brakes remain standard.
ther details include a MTM titanium exhaust without tailpipes, but with throttle valves fitting with original tailpipes and EG-Homologation. The suspension gets the MTM coilover kit featuring a KW Variant 3 with lift-up system 4. While this suspension can lower the car by as much as 60mm from factory ride height, MTM optimise the R8 for street use with a 20mm drop. The lift system provides additional road clearance for lowered vehicles.
The MTM aero body kit features a new front spoiler lip, side skirts and rear spoiler. They do not replace any of the aluminium bodywork. On the inside, the tuner fitted a set of Recaro carbon fiber racing seats. These lightweight seats save 40kg.