Thanks to our friends over at Elite Wrap, we have now received the first images of Onyx Concept's offering for the 2013 Range Rover. The 2013 Range Rover has attracted a number of early tuner renderings. Onyx Concepts were one of the more popular Range Rover tuners for the previous generation, they will be hoping for similar success for the next generation!
As with all previous designs, Onyx Concept's bodykit for the 2013 Range Rover is chunky. It features extended wheel arches, a new side skirt, a redesigned rear with a new diffuser, rear spoiler and exhaust setup. Presumably the front gets a similar style of upgrade, we won't known until we see a few more pictures though.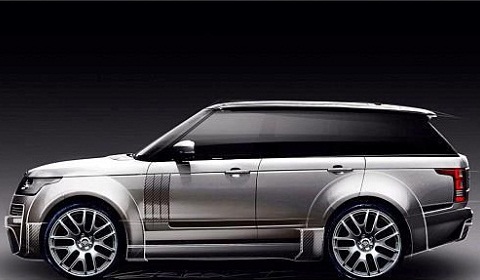 The wheels will probably be Onyx Conept's own brand 22 inch alloy units. As with the current packages, the interior will, no doubt, receive a complete bespoke look, engine remap's will also be available as will carbon fiber accents for the wing mirrors, exterior trim and the interior.
Stay tuned for more details from Onyx Concept as and when they become available.