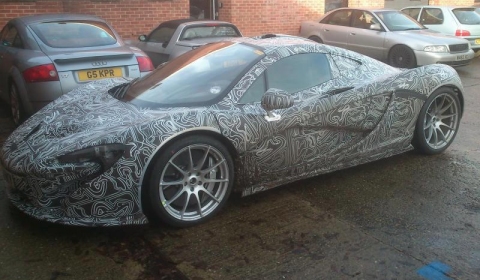 The production model of the McLaren P1 has been spotted again and this time on UK roads in sleepy Norfolk. The new spyshots provide a closer look at the test mule and the changes with respect to the P1 Design Study.
It seems that McLaren transferred the radical design of the production model completely from the P1 Design Study. The only major difference we know spot are the rear view mirrors and the windscreen wiper, which were fitted because of regulations. The tail lights seems to be changed as well for testing purposes.
The P1 was designed from the outset to prioritise aerodynamic performance over top speed. A totally new perspective in the automotive world opening up bew possibilities of using Formula 1 techniques like DRS, KERS and developing an astonishing downforce of 600kg.
The engine and performance figures are yet to be officially released, it has been made pretty clear to us though that McLaren will use a modified version of the 3.8 liter V8 unit found in the MP4-12C. Power ratings could be over 800hp at 9,000rpm from the standard setup and approximately 960hp with a next-generation Kinetic Energy Recovery System (KERS) boost offering an additional 160hp.
A production version will be made available within the next 12 months and the next release with figures and information will be at the Geneva Motor Show in March next year. For more information on the McLaren P1 Concept click here!
[Via Mitch Wilschut Photography and Supercar Driver]