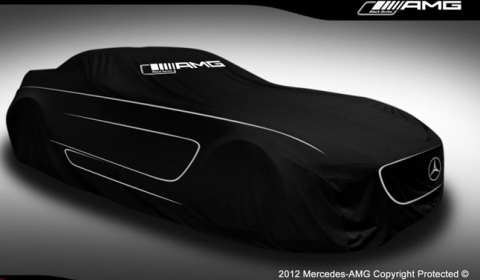 German car maker Mercedes-Benz has started teasing their upcoming new SLS AMG Black Series. The Germans released a picture showing a SLS AMG wrapped in a car cover accompanied by the text:
The mystery about the latest Mercedes-AMG model will be disclosed soon. In less than 24 hours, we reveal the secret under the car cover.
The new SLS Black Series member will make its public debut at the Los Angeles Motor Show at the end of this month. The Black Series will have 630hp from its 6.2 liter V8 engine. This performance allows the SLS Black Series to hit 60mph in 3.4 seconds.
The exterior looks of the model will be quite similar to the recently announced SLS AMG GT3 45th Anniversary edition. The front fascia will have a slightly different look, the hood features a lower and center scoop made of carbon fiber and the front quarter panels will get a large carbon fiber air intakes. Carbon fiber is also used for the massive rear spoiler. The interior will resemble the SL65 AMG Black Series.