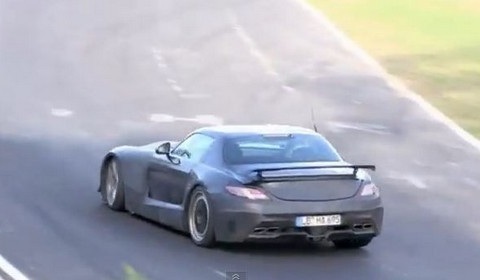 The 2013 Mercedes-Benz SLS AMG Black Series will make its official debut at the Los Angeles Motor Show next month, but it is still testing at the Nurburgring Nordschleife. The new SLS Black Series member will have 630hp from its 6.2 liter V8 engine. This performance allows the SLS Black Series to hit 60mph in 3.4 seconds.
The exterior looks of the model will be quite similar to the recently announced SLS AMG GT3 45th Anniversary edition. The front fascia will have a slightly different look, the hood features a lower and center scoop made of carbon fiber and the front quarter panels will get a large carbon fiber air intakes. Carbon fiber is also used for the massive rear spoiler. The interior will resemble the SL65 AMG Black Series.
Check the video for the latest shot of the new Black Series family member. If you would like to know more then please click here!