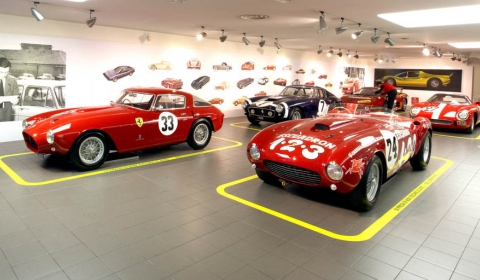 The Ferrari Museum in Maranello has opened the Great Ferraris of Sergio Pininfarina exhibition. The special display focuses on the years during which Sergio, the son of founder Battista "Pinin" Farina, made a contribution to the creation of the Prancing Horse's most famous models.
The exhibition, which runs until January 7th, includes 22 models, including one-offs of the likes of the extraordinary Pinin, Ferrari's only experimentation with a four-door car, and the 330 GTC Speciale once owned by Lilian, Princess de Rethy of Belgium. The cars in the exhibition are split between three separate, themed halls which tell the story of Pininfarina's work on the racing cars ("Pininfarina and Racing"), the road cars ("Pininfarina and the Grand Tourers") and some of the experimental models bodied by the Turin coachbuilder ("Pininfarina and the Concept Cars"). In addition to the cars, many previously unseen exhibits from the Pininfarina family's private and company collections will also be on display, not least of which is the wooden styling buck of the Modulo concept car.
Also on display are some of the racing cars Pininfarina penned for Ferrari: the 250 LM, Ferrari's last overall winner at the 24 Hours of Le Mans, the 500 Mondial and 250 MM berlinettas, the classic 375 MM racer, the spectacular BB Le Mans, the short wheelbase 250 GT Berlinetta in which Stirling Moss won the Tourist Trophy, and the Sigma Formula 1 prototype from 1969.
The 11 road cars in the exhibition are divided between the front-engined berlinettas, such as the 1964 275 GTB4 and the Spider version of the legendary Daytona, the mid-rear-engined models, notably the milestone BB, and the contemporary creative evolution which includes the Testarossa and the 599 SA Aperta, the latter a homage by Ferrari to Sergio and Andrea Pininfarina.
The exhibition is open to the public seven days a week from 9.30 am to 6.00 pm, from Saturday, October 27th, to Monday, January 7th (excluding, of course, December 25th and January 1st when the Museum is closed).