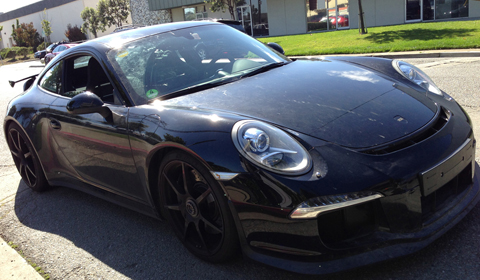 A new series of spyshots showing the 2014 Porsche 911 (991) GT3 have been released by automotive photographer social network, GearStage.com. The 911 GT3 is expected to be released a year or so after the less high performance 911 variants, such as the upcoming 911 Targa.
Little is known of the performance figures of the yet to be released track-based variant, but it isn't a stretch to imagine performance figures marginally better than the current iteration. Expect the GT3 to produce 450hp from its 3.8 liter flat-six. Porsche engineers should save around 40kg over the standard 911 model thanks to a stripped out interior, lightweight wheels and lightweight body panels.
Porsche does have their work cut out for them, however. The current generation GT3 is widely regarded as one of the greatest 911's Porsche has ever released. Included in the pictures and accompanying video, nominal amounts of camouflage cover the interior and exterior updates. Amusingly, the Porsche logo emblazoned on the steering wheel is covered completely with gaffer tape, as though people won't recognize one of the most iconic shapes in the automotive world.