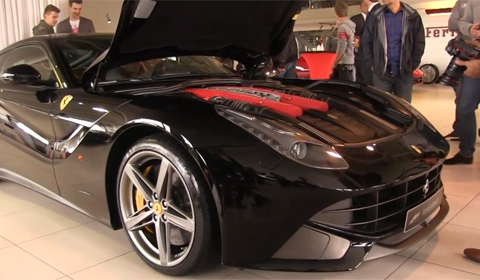 Ferrari's replacement for the 599, the F12 Berlinetta, is a sight to behold. One of the most overlooked aspects of Ferrari's latest V12 barnstormer is that the horsepower numbers (730hp) are gained through a naturally aspirated engine. That leaves it being one of the select few supercars released in the past year to not have resorted to turbochargers, superchargers or various other sundry emissions-meeting devices (yes, we know there are many other reasons for such technology). And the F12 is in good company, the only other major release of a naturally aspirated V12 was the Lamborghini Aventador earlier this year. Both magnificent achievements in the day and age where V12's are becoming the exception and not the rule.
YouTube spotter SpotterGijs was able to capture video footage of the very first F12 to arrive in The Netherlands. Even rarer is the color choice – black. From an onlooker's perspective, the car is magnificent. Gijs takes you through minute details on the car, which only aid to the legendary spectacle of the car itself, ending with a series of revs by the new owner. What a great way to christen your newest grand-tourer.
Check out the video below!