Porsche officially presented the Panamera Sport Turismo concept car at the Paris Motor Show 2012. It demonstrates, not only what a Panamera would look like as a shooting brake, but also what intelligent and efficient drive technology might look in the design language of tomorrow. The Sport Turismo uses a next generation hybrid drive system to provide comfort, elegance, efficiency and performance all in one package.
The Sport Turismo is 1,990mm wide, a low 1,401mm in height and 4,950mm long which makes it wider, lower and shorter than the standard Panamera model. The Sport Turismo also combines short overhangs and a large boot lid. Interesting features include directional indicators and sidelights integrated into C-shaped lighting units and mounted in the air inlets at the front end.
In place of conventional exterior mirrors, the Sport Turismo has two cameras mounted in the side air outlets showing images on the displays in the cockpit. The rear body has a completely new shape, it gets LED technology tail lights with the "Porsche" badge sculpted in three dimensions and an adaptive carbon fiber roof spoiler. The liquid metal blue colour is also new, as are the wheel designs.
The Panamera Sport Turismo features the plug-in hybrid system we suggested earlier today. It has "e-hybrid" badging and the concept vehicle get 416hp and in pure electric mode, can reach speeds of up to 130km/h and cover distances of 30km. Fuel economy is a combined consumption of less than 3.5 liters per 100km, while CO2 emissions are under 82g/km.
The electric motor produces about 95hp, which is around twice as much as in the current Porsche hybrid drive, while the supercharged three-liter V6 engine its hooked up to still produces 333hp. This allows for a zero to 100km/h sprint of less than six seconds. The electric power pack of the Sport Turismo e-hybrid consists of a lithium-ion battery, it's a high capacity unit that outperforms the current nickel-hydride battery.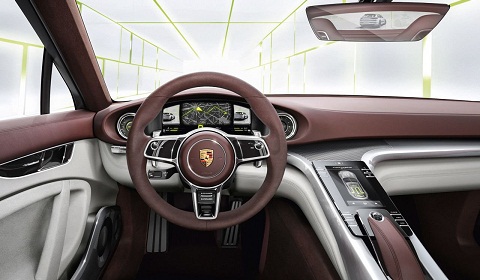 The default operating mode prioritises all-electric driving, but this can be deactivated by pressing a special button on the steering wheel or enable the e-hybrid mode once more. The battery is charged while driving or with just 2.5 hours of external charging.
The interior of the Sport Turismo gets a large central TFT colour display is positioned in front of the driver and two monitors, one to the left and one to the right of this display, which show images from the exterior mirror cameras. Two additional displays provide information on the hybrid-specific driving states. The touch sensitive display starts the engine and controls the handling and other settings
The Porsche Panamera Sport Turismo is fully phone compatible too!