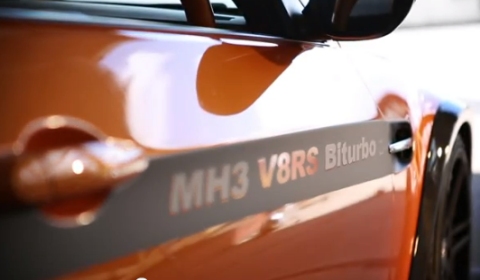 This next video shows the Manhart Racing MH3 V8 RS Biturbo Clubsport, which is based on a BMW M3 E92. Besides numerous other modifications this car was equipped with the 4.4 liter V8 Biturbo engine from the BMW X6 M. The sports car has a power output of 750hp and 910Nm of torque.
A larger air cooler has been fitted and reinforced pistons and rods were also used. In addition, the X6 M cooler package and an additional oil cooler were installed. Weight is down to 1,590kg, giving the MH3 V8 RS Clubsport has a power to weight ratio of 2.12kg/hp. The exhaust system is titanium and has two racing catalyst.
0-100km/h takes just 3.2 seconds, top speed is beyond 350km/h. The MH3 V8 RS Clubsport has the six-gear automatic sports gearbox from the X6 M, as well as an E60 M5 locking differential. Brakes are uprated to MOVIT units in sizes 396×34 millimetres with six-piston fixed callipers at the front and 380×32 millimetre four-piston callipers on the rear axle.
Read more on the Manhart Racing MH3 V8 RS Biturbo Clubsport right here!