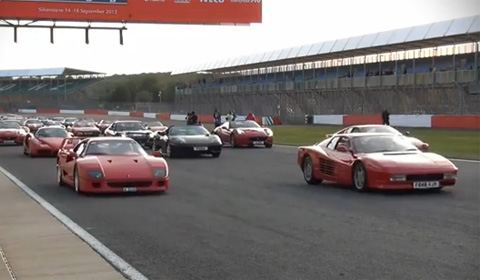 The Silverstone circuit in England held an attempt to break the Guinness World Record number for "The Largest Parade of Ferrari Cars". A staggering number of 964 Prancing Horses attended the parade last Saturday, shattering the previous record of 490 cars dating back to 2008 at Japan's Fuji Speedway Circuit.
Our friend Shmee150 visited the event. He made this great video showing the biggest parade of Italian sports cars the world has ever seen. It has been estimated the fleet of supercars boasted more than 500,000 horsepower in total – with models from the past 40 years taking part.
Felipe Massa led the parade in a Ferrari 458 Spider. The Formula One driver said "it was a really unforgettable experience". It was all in a good cause, as Ferrari donated £5 for every car in the parade to BEN, a British charity that supports employees from the motor industry and their family in times of hardship or distress.