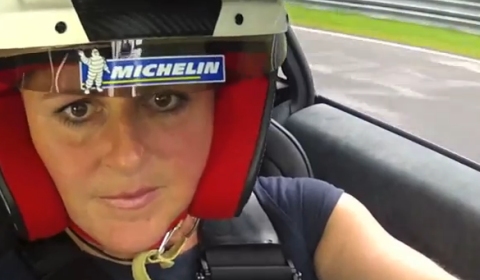 This next video shows Sabine Schmitz driving the Exagon Motors Furtive-eGT on the famous Nordschleife Nurburgring. She also shares her opinion about the car with us.
The production model of the Furtive-eGT will make its public debut at this year's Paris Motor Show in September.
Electric propulsion offers a constant torque of 480Nm from 0 to 5,000rpm. The Furtive-eGT has a capacity for acceleration – 0 to 100km/h in 3.5 seconds – and can hit 287km/h, but the maximum speed is limited electronically to 250km/h.
The Furtive-eGT is powered by two latest-generation motors created by Siemens Corporate Technology, each providing an output of 125 kW. The total power equivalent to 340hp at 5,000 to 10,000rpm. The autonomy in 100% electric mode without the range extender is at a constant speed of 50km/h 402km, 90km/h it is 288km, 110km/h it is 241km and 130km/h it is 197km.