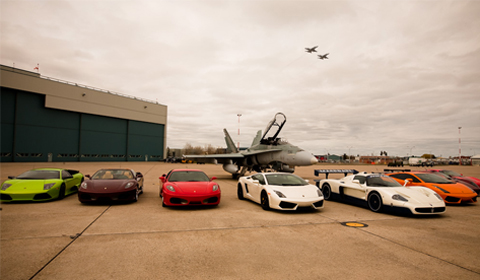 An exciting event is about to kick off this Saturday in the town of Cold Lake in Alberta, Canada. The ZR Auto Group is gearing up for the return of their second 'Race the Base' event. In 2010, Zahir Rana hosted the event, which allowed supercar owners to take their vehicles to their limits. The event, which was hosted at the CFB Cold Lake Airforce base, saw competitors trying to push their cars to reach 200mph on the 2.5 mile long runway.
The idea of the event was to allow owners of 200mph-capable cars to drive their cars how they were built to be driven. With the event taking place on a closed-off military base, the drivers needed not worry about flashing red and blue lights in their rear-view mirrors.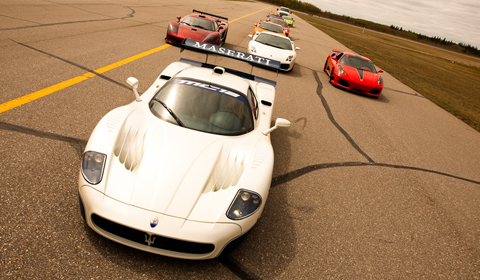 From a Blue and White Maserati MC12 to a burgundy Saleen S7, Race the Base saw intense competition and camaraderie. The grand finale event saw Zahir Rana race his 870hp Ferrari Enzo XX Evo racing against a CF-18 fighter jet down the runway. Though Zahir initially beat the jet off the line, the military aircraft soon caught up and took the victory.
But now it's time for round two! Zahir recently had his Edo Competition Ferrari Enzo converted into a fully street-legal FXX, and he's looking to see if he can take on the jet once again.
So far, cars registered in the event include; a recently converted Maserati MC12 Corsa, Saleen S7, 1,470hp Lamborghini Gallardo, Audi R8 GT, Lamborghini Aventador, Lamborghini Murcielago LP750 conversion by Edo Competition, Switzer-moidified Nissan GT-R and many more.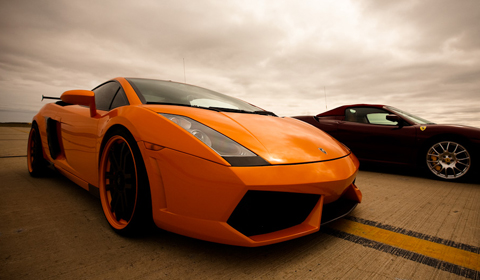 This years event, which takes place August 24-25, is going to build upon the success of the last event and make it even better. The 2012 Race the Base event will see competitors competing in three very unique events: the Side-by-Side Standing Mile Event, Dual Road Course "Time Attack" Competition and the Solo Road Course Competition.
Other events at Race the Base 2012 will include the Freestyle Doughnut Competition and the Wet Burnout Competition.
Spectators are encouraged to come out to the event and be a part of the mayhem that is Race the Base. Military demonstrations will be held as well as professional drifting demonstrations and more. The event is family-friendly and all proceeds of the event are donated directly to local charities.
Will Zahir redeem himself against the fighter jet this time around? We'll have to wait and see!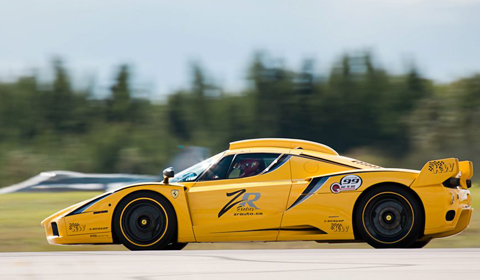 Here's a look at what we can expect from this year's event:
For more information on Race the Base, click here. For Race the Base updates during the event, follow Race the Base on Facebook.