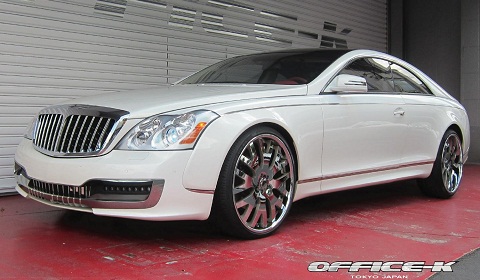 Office-K recently released a new set of pictures featuring the Xenatec Maybach 57S Coupé. The Xenatech project may be equally as dead as the Maybach brand, yet the few Maybach 57S Coupé's that were delivered are still being used regularly by customers. This particular example received a set of Forgiato wheels, along with an 8,000k high-intensity discharge lamp conversion and a set of LED lights.
We believe that this particular Xenatec Coupe is the same example we saw presented at the Osaka Auto Messe last year. It features the same chrome, three-piece Forgiato Dito's measuring 24 inches in diameter. The car now appears to have lost the metallic gold stripes that run along the cars shoulder line. If this isn't the same car, then Japan now has two Xenatech Coupé's running Forgiato wheels!
The Xenatec Maybach 57S Coupé is based on the Maybach 57S. German coachbuilder, Xenatec converted a number of four-door limousines into a two-door Coupé before declaring bankruptcy. Each of the vehicles has a 6.0 liter twin-turbo V12 manufactured by Mercedes AMG. These engines provide 612 horsepower and 1,000Nm of torque. Despite being a heavy weight, the car has a stable ride thanks to a full air suspension system with level control, anti-dive control and torsion bar stabilizer.
For more details and for our opinion on the Xenatech Coupé, read our Road Test by following the embedded link.