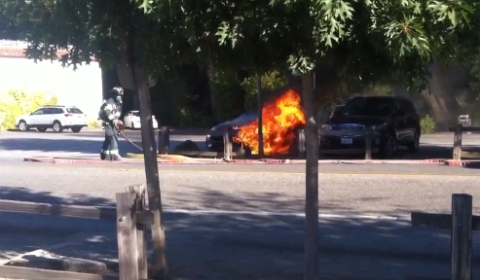 Sadly you are looking at the second Fisker Karma plug-in hybrid, which went up in flames. In May we reported about a similar fire which happened in the garage of a Karma owner in Texas, US. Fisker released a statement after the fire last week:
Fisker Automotive can confirm that one of its Karma models was involved in a vehicle fire during a roadside incident in Woodside, California. No injuries were reported; the vehicle was parked; and the fire was extinguished safely by the emergency services. Fisker understands damage was limited to the driver's side front corner of the car, away from the lithium ion battery and electric motors. The car was not being charged at the time.
They also stated that Fisker staff has been in contact with the owner and that they are hiring an independent fire expert to investigate the cause of the fire.
We are also employing an independent fire expert to assist the investigation. A further statement will be issued once the investigation has been completed and the cause determined.