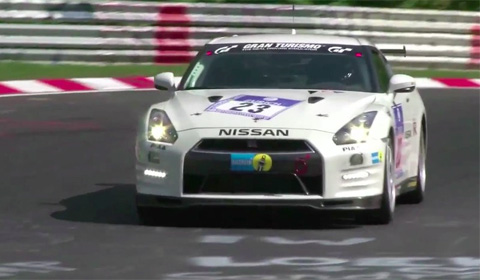 Nissan has released a video showing the preparations to their entry in the Nürburgring 24-hour race, and what this means to the Japanese car maker. In this video GT-R engineer and team director Kazutoshi Mizuno speaks about the significance of participating in the challenging endurance race.
The recent retirement of Mizuno has fuelled speculations that a successor to the current model (R35) hasn't been approved, and perhaps never be developed at all. But Mizuno, the father of Nissan's spectacular GT-R, mentions something interesting in this video. Starting from 2:15, Mizano suggests there may be a future for the GT-R after all since their experience on the famous German circuit will be poured into the evolution of future GT-Rs.
Nissan entered the 24-hour race at Nürburgring not to win the race, but for the evolution of the GT-R in the future. So, the evolution of the GT-R will continue, which also could explain why development of a successor hasn't received green light yet. Whatever the future might hold for the Nissan GT-R or its potential successor, it would be a waste of time, money and resources to let their supercar retire together with Mizano, wouldn't it?