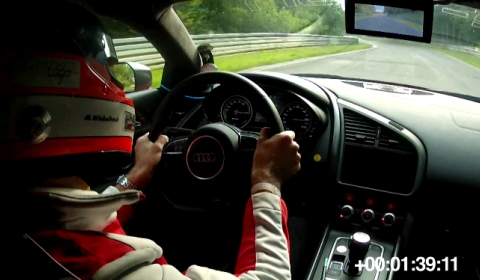 Following an earlier story published about two weeks ago, we can now share with you a video of the Audi R8 e-tron Nurburgring lap record. Markus Winkelhock drove the Audi R8 e-tron on the Nurburgring Nordschleife and set a new lap record for sports cars with purely electric power.
The former DTM driver lapped the famous 20.8km-long track in just 8 minutes and 9 seconds. The video shows the complete record run via onboard cameras. Also check the interesting electronic rear view mirror, which includes a screen showing the full rear view sight.
The lap time of the Audo R8 e-tron matches that of the Renault Megane RS Trophy, Audi RS4, BMW M6 E63, and the Honda NSX-R. The e-tron is not even the fastest electric vehicle; the Toyota TMG EV P001 has set the lap record for an electric car in August last year with a time of 7 minutes and 47.794 seconds.