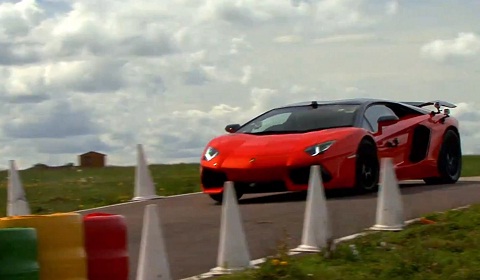 OptionAuto released a small video of the Oakley Design Lamborghini Aventador LP760-2 on track yesterday. The French magazine drove the worlds first rear-wheel drive Aventador on the small 3.3km Circuit Chambley in France releasing two small video reviews, in French.
In the first video, the driver gives us his opinion on the car. Basically he feels it feels precise and planted in the corners. His major complaint is that he feels that the pedal layout on the right hand drive cars are too close to the transmission tunnel. Our summary? Where's Chris Harris when we need him?
The Oakley Design Lamborghini Aventador LP760-2 features 27 separate modified parts. As the name suggests, the big headline is the two-wheel drive conversion. An option that saves weight and dramatically changes the Aventador's handling properties. It saves around 130kg after removing the front differential, drive shafts and other front drivetrain parts. Suspension changes are realised by specialists Intrax.
Thanks to ECU modifications and a titanium exhaust system, the Oakley Design Lamborghini Aventador LP760-2 produces 783hp. As we said before, this is sent straight to the rear wheels. Only five examples will be built.