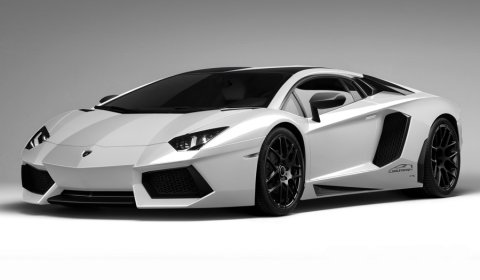 Oakley Design has announced their tuning program for the 2012 Lamborghini LP700-4 Aventador. The production of the Oakley Design LP760-2 will be limited to just five cars, each bearing a unique numbered plaque. Three of these are already sold. Outside of this Limited Edition model, individual parts will be available for clients who do not require the complete package.
A new ultra-light, forged alloy wheel is being developed in conjunction with their partner HRE. Each wheel weighs around 4.0kg less per corner than the factory alloys. The factory 255/35ZR19 front and 355/30ZR20 Pirelli PZero tyres are retained, but the wheel width increases from 9.0J to 9.5 inch in front, and from 12.0J to 13.0J at the rear. This gives the car a wider footprint, and endows the rear wheels with more mechanical grip in 'corsa' mode.
Although the majority of owners will purchase just the carbon fiber parts, sports exhaust and re-mapped ECU, a few hard-core clients seem to be interested in a rear-drive only option for further weight saving and increased performance. After their success tuning the Ferrari 458 Italia to 640bhp, and also having driven the Underground Racing twin-turbo F458 with 880bhp, they feel that the Aventador, with its very stiff full carbon monocoque and advanced suspension design, should also be able to handle this level of power with just rear-wheel-drive.
Oakley is developing several suspension upgrade alternatives with their partner Intrax, and the removal of the front differential, drive shafts and associated front drivetrain parts will reduce kerb weight by around 85kgs.
Lamborghini's claimed outputs of 690bhp and 690Nm of torque, will be increased by around 10 percent with an ECU remap optimising a larger airbox, intake feed pipe diameter and a titanium exhaust system that will also save over 30kg. Our target is 760bhp with 745Nm of torque. The angular cover surrounding the four exhaust outlet pipes will feature the Oakley Design logo and signature burnt blue tip look.
Despite having a carbon-fiber bodyshell, the Aventador has many gloss black plastic parts. The two plastic front bumper and two rear bumper trims will be extended to aid cooling, as will the side air intakes located behind the doors. The new parts will be made from carbon-fiber, as will the new side sills with their slightly larger vents. The sills can either be colour-coded to the bodywork, with the air vents picked out in carbon, or left completely in exposed carbon finish for a more aggressive look.
Developed in the MIRA wind tunnel, the rear Gurney flap, matched to a deeper rear diffuser with longer, deeper boundary layer fences, helps high-speed stability and grip on both two and four-wheel-drive versions. The carbon fiber door mirrors and engine bay covers are direct replacement parts. Along with the black carbon roof, they give a new look to the Italian bull.
Oakley Design has not released any time schedule nor prices. Interested? Please contact us or Oakley directly. We can hardly wait to see this Aventador in the flesh.
Update: Gallery with four pictures added to the story, pictures via Autogespot.com