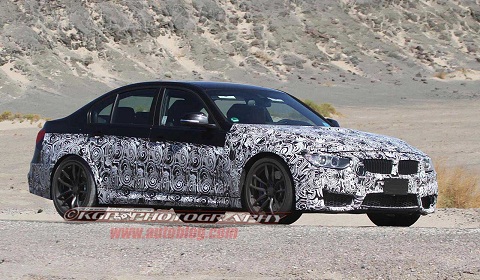 Spyshots have emerged through Autoblog showing the BMW M3's front facia. It's the first time that BMW have let slip the shape of the cars front bumper. It was spotted hot-weather testing in Death Valley on Californian number plates.
The F80 BMW M3 isn't expected until 2014, however, we do expect to see a concept at the 2013 Geneva Motor Show with a full, production version at next year's Frankfurt Motor Show. The BMW M3 is expected to continue as a Sedan with the Coupe ditching the historic moniker in favour of the BMW M4 badge.
Rumours up until this point suggest that the next-generation BMW M3 will feature a twin-turbo 3.5 liter V6 engine. 450 horsepower should be available from this unit. Patent applications have also revealed that the BMW V6 will feature a sequential turbocharging layout. The drawings suggest that exhaust fumes from all six-cylinders are routed into one turbocharger and then either into the exhaust, or through another larger unit.