Rolls-Royce is planning the release of a new Rolls-Royce Ghost Fastback, a brand new Coupe model based on the smaller Ghost model series. According to Autocar, this new car will be the fastest production Rolls ever built.
The new coupé is to be powered by a tuned version of the saloon's turbocharged 6.6 liter V12 engine providing an increased output of about 600bhp and a proportional increase in torque. The engine is linked to a ZF eight-speed automatic transmission converting the power to the rear wheels. The increase in performance is accompanied by mildly sports-orientated upgrades to the brakes, tyres and suspension.
Improved agility is provided by an improved suspension, bigger tyres, reduced weight and size and a chassis lowered by 10mm. The top speed will be limited to 250km/h, but the coupe's 0-100mph acceleration is expected to be considerably faster than that of the already quick Ghost saloon.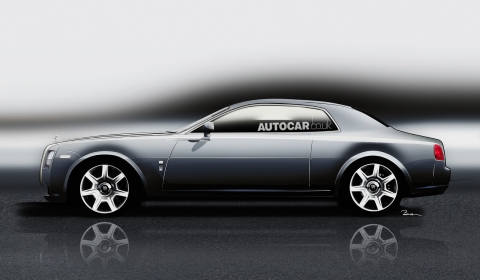 The UK magazine expects that the two-door Ghost coupé is shorter than a standard Ghost in both wheelbase and overall length. Like its Phantom-based two-door family members, its roofline is 60-70mm lower than the saloon's. The Ghost coupé will be around 200mm shorter overall (at about 5,200mm) with around 180mm lopped off the saloon's 3,295mm wheelbase. The expected kerb weight could end up around 2,300kg, which is roughly 200kg less than the standard saloon.
The Ghost coupé will have its official release at the 2013 Geneva Auto Salon and will go into production in the summer next year. First customers should receive their cars in late autumn of 2013. Starting prices will be between £205,000 and £230,000.