Rumours have surfaced that Bernie Ecclestone Ecclestone is looking into buying the embattled Nurburgring, Die Rheinpfalz newspaper reported on Thursday, citing an interview with the 'F1 Supremo'.
The German newspaper did not reveal the specifics of the deal involving the 81-year-old Ecclestone, who declined to comment on the price he is willing to pay for the insolvent circuit. But the 83-year-old billionaire was not prepared to stage Formula 1 races there at his own risk, nor forego the sanctioning fee for 2013, as was previously reported in the German media. Further details regarding the sale of the Nürburgring to Ecclestone are scarce and a timetable has not been disclosed.
Earlier on Thursday, it was reported that a management buyout was being considered, although its current debts far outweighing the value of the track. Nurburgring Automotive GmbH chief Jorg Lindner said: "We have developed a concept for the formula one race at the Nurburgring that does not require a cash grant from the state."
Interestingly, Nurburgring officials Jorg Lindner and Kai Richt traveled to Hockenheim, where the F1 Grand Prix was held previous weekend. Lindler and Richt wanted to meet with Ecclestone to discuss the current situation, but the F1 boss did not show up. "They waited and waited, but Bernie did not come," a correspondent for Suddeutsche Zeitung said. Media reports speculated that Ecclestone stayed away for fear German prosecutors would order his arrest as they push forward with a bribery investigation.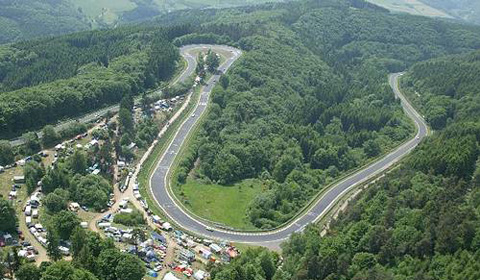 At this stage it is unknown what the future will hold for the indebted Nurburgring, which is facing debts of €497 million including a €330m loan from the state-owned Investitions und Strukturbank as well as €83m in other loans, while it "only has assets valued at €126m", according to accounting firm Ernst & Young. The Ring also needs another €13 million just to stay afloat this year.
Bad decisions, bad management, let's just hope this time the Nurburgring, the state of Rhineland-Palatinate and Ecclestone will make the right decision to get the Ring back on track.
[Via Bloomberg and Motorsport.com]