Today is a day filled with new "hybrid" supercar news coming from across the world. Following our front page stories on the interior of the Porsche 918 Spyder, the powertain and availability of Jaguar's C-X75, and the new spyshots of the Ferrari Enzo successor, we can now share with you some more in-depth information on the upcoming McLaren P12, the new supercar from Woking.
According to CarsUK.net, McLaren's new supercar is on its way and closer than you may think! The British car maker is planning a private event at Pebble Beach next month prior to a public debut at the Paris Motor Show in September.
The online magazine also states that a reliable source told them that McLaren already has at least two complete cars ready and has shown the new supercar – which may be the McLaren 799 – to a number of wealthy McLaren clients.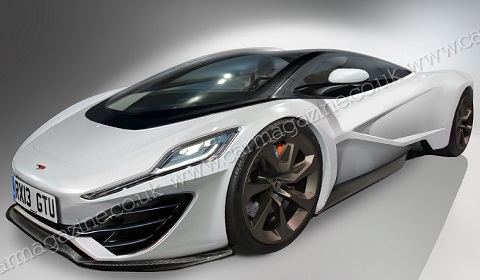 Regarding the specifications and design we will just repeat the words of the source. The new supercar will be able to produce power approaching 1,000bhp thanks to an output of close to 800bhp from its 3.8 liter turbocharged V8 and a KERS boost for an additional 200bhp. The new McLaren will be the fastest accelerating production car in the world with a sprint time from zero to 100km/h in less than 2.3 seconds. There are no intentions of touching the top speed of the Bugatti Veyron.
With regards to the design, the source said it will be spectacular – almost cartoon-like in its form – and a long way away from the almost generic supercar design of the MP4-12C.