Our next words and text lines cover the fastest road-legal Porsche ever to leave the factory in Zuffenhausen! The signature Silver-Grey 2011 Porsche 911 GT2 RS in this story was available to us for one single day near Wuppertal, in the western part of Germany. We stepped behind the wheel with a decent amount of respect for the rear-wheel drive turbocharged powerhouse which is based on the previous facelifted 997 model series. Our testing grounds were local country roads and the famous German autobahn.
Compared to the 'normal' GT2, the RS serves up a rather unexpected and extreme power boost, adding 90hp for a total of 620, available at 6,500rpm and sheds around 70kg of weight. It allows the RS to sprint from 0 to 100km/h in 3.5 seconds, 0 to 200km/h in just 9.8 seconds, and 0 to 300km/h in 28.9 seconds. The top speed is an astonishing 330km/h, two more than the 997 GT2.
The 911 GT2 RS differentiates itself from its sibling not only on performance, but also on looks and the generous use of carbon fiber parts fitted throughout the car, on the inside as well as the outside. The most noticeable differences are the front hood carrying a plastic sticker Porsche logo, the fenders, the side mirrors, the rear air intakes and the lip spoilers at the front and rear, all made of carbon fiber.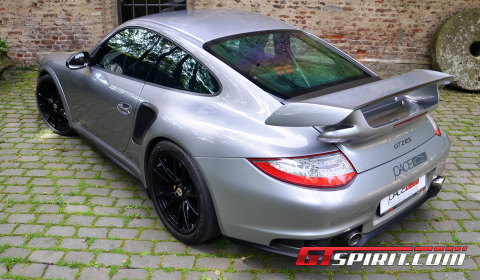 On the technical side, the front track of the RS became 12mm wider, it rides 5mm lower and rolls on center-locking Speedline wheels fitted with Michelin Pilot Sport Cup tires. The ultimate trackday car uses a slightly up-rated chassis borrowed from the 997 GT3 RS. The carbon ceramic brakes offer appropriate braking power. A stability-control system and Porsche's PASM adaptive suspension provide a sporty ride, which is firm but never bumpy, not even when the suspension setting is set to Sport mode.
The wonderful ride is accompanied by an excellent well-proven 3.6 liter engine. It is force-fed by two variable-blade turbochargers, one for each cylinder bank, and linked to a short-throw six-speed manual gearbox with a racing clutch. Special intercoolers, enhanced pistons and an improved engine management system allow a setup that runs 1.6 bar of boost, 0.2 higher than the GT2. The 620 horses are accompanied by a torque level of up to 700Nm delivered between 2,500 and 5,500rpm. The highest-output ever offered in a street-legal Porsche!
Off the line, the car doesn't feel as quick as the four-wheel-drive Turbo S with its launch control and fast-shifting PDK gearbox. It is the utterly smooth acceleration after its initial lift off which shows an immediate difference with respect to the less track-focused Turbo models. The improbable poise and addictive speed potential are mainly due to the weight saving single-mass flywheel which allows the engine to freely rev up to its 6,750 redline and deliver its constant and endless punch.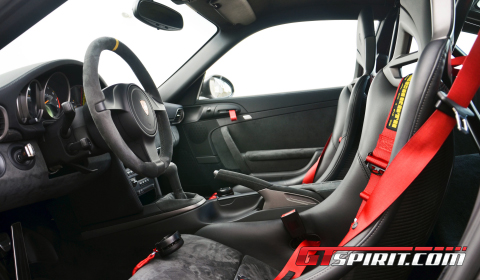 The cabin offers a wonderful place to stay for those asking for a racy setup. The 911 GT2 RS equipment includes carbon fiber racing bucket seats, an optional nav system, carbon-finish RS door sills and an optional Chrono Plus package. The steering wheel feels grippy, and like the shift knob, handbrake lever, seat inserts, and headliner it is covered in Alcantara. Our test car was fitted with the Clubsport package offering a roll bar, a six-point harness and pre-wiring for a kill switch. The cabin normally lacks an infotainment system and climate control, but those were offered on Porsche's option list and subsequently fitted to our GT2 RS.
The whole experience is not just the race-bred chassis and the powerful engine. It is also the steering which shows its talents through the corners. The well-balanced setup is in one-word, stunning. The steering feel is more than accurate, while the grip of the front-axle is astonishing to say the least. Every single corner we attacked was a repeating challenge of finding higher entry and exit speeds up to a moment we had to back-off because we crossed our reserved ambition. This GT2 RS had surely more to it than we were used to and we weren't going to try it without being on a race track offering us space for errors.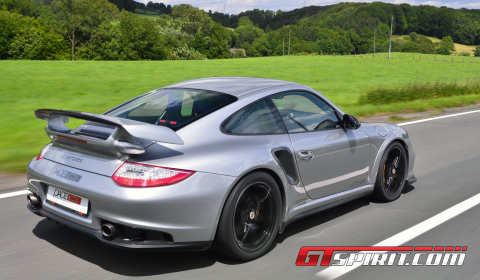 So in the end what can we say about this 620hp-strong GT2 RS? It is surely the best Porsche we have ever reviewed. Unfortunately we were only guaranteed access to it for a single afternoon, but we can conclude that the GT2 RS is the pinnacle of the turbocharged 911-series. It goes, grips, stops and handles like a street-legal racer. There is simply nothing like it. Feel free to find another pure sports car that goes like this for this kind of money, and combines that with 'drive it any day, park it anywhere' ease of ownership. You will hardly find an answer!
Until Porsche's new supercar, the 918 Spyder, arrives next year the GT2 RS will be Zuffenhausen's ultimate sports car and with 500 on offer in 2010 it was only available for the happy few, hardcore enthusiasts who sought the ultimate Porsche driving experience. We now know that they weren't disappointed after delivery, not in the slightest!
This 2011 Porsche 911 GT2 RS is for sale via PACE Germany, specialist in buying/selling & agency of exclusive sports- and luxury cars, renting of exclusive sports- and luxury cars and rallye organization. Interested? Contact PACE Germany directly or GTspirit via the contact link.