Looking for an unique and powerful Porsche? Perhaps this model might be of interest to you. German Porsche specialist Jürgen Alzen Motorsport joined forces with suspension manufacturer H&R and RS Tuning, and created a Porsche with only one goal in mind: to break the 400km/h barrier.
The base of the car was a Porsche 997 Turbo, but the exterior was altered in order to optimize the aerodynamics and to shed some weight. Most parts were made out of carbon-fibre, the rear and side windows were made of acrylic glass. The roof has been lowered by 75mm and the windscreen has been further tilted by 7.5 degrees. Due to these modifications, the seats had to be mounted in a lower position as well.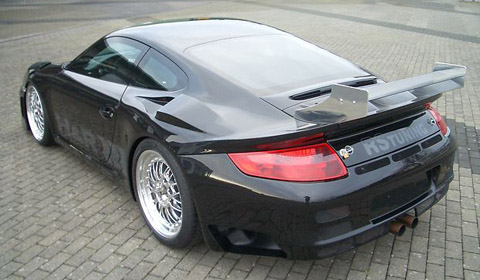 The engine was modified by RS Tuning, who increased the displacement of the twin-turbo flat-six from 3.6 to 3.9 liters. The amount of power was boosted to a staggering 1,055 horsepower and 1,030Nm of torque. Power is transferred to the rear wheels via a modified high-geared six-speed transmission. Of course the Mission 400 Plus features a lot of other technical tweaks, including massive high-performance brakes.
The Jürgen Alzen Motorsport Mission 400 Plus is being offered for sale at Mobile.de for €499,000, including 19% German VAT. Below is a (German) video showing the development of the car and it's high-speed run on the Papenburg test track in northern Germany. Skip to 6:30 to see the Mission 400 Plus hitting the 400km/h.