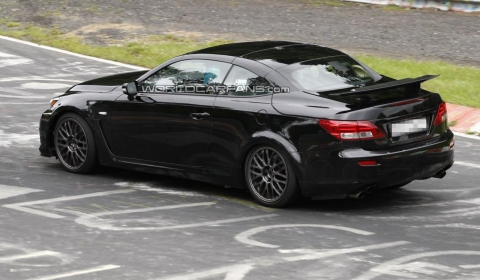 The spy photographers at WorldCarFans have snapped a rather intrigueing looking Lexus IS-F Convertible while testing on the Nurburgring Nordschleife. The test mule is the basis for the long-awaited convertible version of the IS-F, a direct competitor to the new upcoming Audi RS5 Convertible and BMW M3 Convertible.
According to Insideline, who shot photos of the suspension this test mule is not a version of the current model but a first glimpse of the 2014 IS. The setup featured new aluminum lower control arms, new springs and dampers, and a rear toe adjuster or a rear-steer ball joint.
Additional information – like engine options, new hybrid powertrains and interior options – is not yet available at this stage. Stay tuned for more over the coming months!