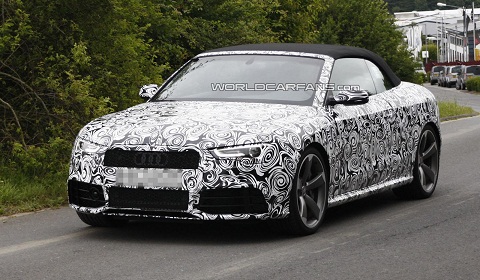 The Audi RS5 has been on the market for a while now. It's initial introduction was at the 2010 Geneva Motor Show, since then we've seen a facelift already but no cabriolet version. Recently, WorldCarFans caught a prototype Audi RS5 Cabriolet testing at the Nurburgring in Germany. This probably means that we will get to see an Audi RS5 Cabriolet at some point in the future!
The car in the pictures is unmistakably an Audi RS5 Cabriolet. It features trademark dual exit exhausts with wider wheel arches and a redseigned front end. This particular car is covered completely in camouflage which tends to suggest there may be a few differences between this car and the Audi RS5 Coupe already on sale. Perhaps a facelift model?
Expect the Audi RS5 Carbriolet to feature the same 4.2 liter normally aspirated V8 as the Coupe. It delivers 450hp at 8,250rpm, with peak torque of 430Nm available between 4,000 and 6,000rpm. It is hand-built at the plant in Györ, Hungary and each one will reach 100km/h in just 4.6 seconds.
The pictures coincide with the first US specification Audi RS5's arriving at US dealerships this week. Dealerships in Atlanta and San Diego received a handful of cars this week. To see more of the spyshots, please visit WorldCarFans!