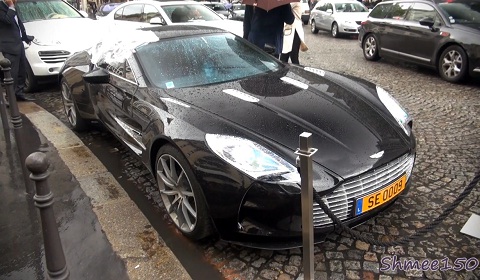 Our friend Shmee150 has embarked on a summer trip around Europe. His first stop was Paris where he spotted Samuel Eto'o and his Aston Martin One-77 at the side of the road. Apparently the car had refused to start causing the drivers side window to remain in the raised position. This meant that the door could not be closed and plastic had to be draped over the openings to keep the rain out of the car.
It's not all doom and gloom for the Anzhi Makhachkala and Cameroon striker though! He left the scene in a Xenatech Maybach Coupe, reportedly one that he owns. In the past we've also seen him in a Bugatti Veyron, a Mansory 599 Stallone and a Gemballa Mirage GT Gold Edition! It's not surprising though, he is probably the highest paid footballer in the world with a salary of €20 million after tax per season. The car is number 49 of the 77 One-77's and registered in Luxembourg.
His employer, Russian billionaire Suleyman Kerimov is no stranger to fast cars. In 2006 he crashed his black Ferrari Enzo into a tree in Nice, ripping the car in half and hospitalising Kerimov. It's thought that some of these cars could be gifts from Kerimov who once gave Roberto Carlos, another Anzhi Makhachkala player, a Bugatti Veyron as a present.