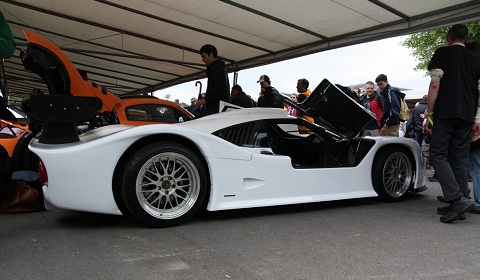 Arash has taken its Arash AF-10 LM to the Goodwood Festival of Speed 2012 this weekend. The Arash AF-10 LM is essentially the same incredible looking car as the Farboud GT we first saw back in 2002. While the company works on the standard Arash AF-10, the AF-10 LM will be providing entertainment for the crowds.
The Arash AF-10 LM features a 2.0 litre twin-turbocharged V6 engine delivering 600hp and 624Nm of torque. 0-60mph time is set at 3.3 seconds and top speed should be around 327 km/h. Power goes to the rear wheels via a 6-speed manual transmission. It's the only one of its kind and Arash have no plans to produce another or sell this example.
Arash will produce the standard Arash AF-10 though. The AF-10 will have a bespoke 12-piece patented carbon monocoque created in house by Arash engineers. The body and chassis are both carbon fiber and hold the 5.5 litre V10 engine developed by Judd and an exhaust system with active valve control. The engine produces 850hp and a total of 530 lb.-ft. of torque 8,000rpm. A six-speed manual Graziano gearbox converts the power to the rear wheels.
Look out for the new AF-8, set to be released some time in the near future!