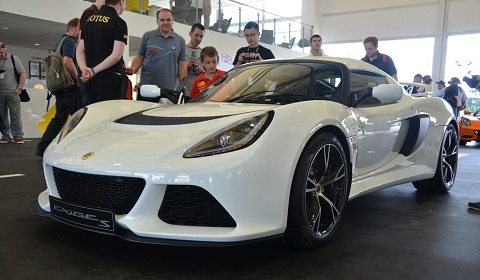 Lotus have a strong following at the Goodwood Festival of Speed 2012, they sponsored the centerpiece this year as part of the celebrations for the 50th anniversary of the Lotus Elan and 35 years since the innovative Lotus 78 ground effect racing car competed in Formula 1. The displays feature plenty of historic Lotus racers, we'll get to those later. For now, we want to show you the modern cars lotus have on display at their trade stand.
It's a period of change for the British brand, having disposed of Dany Bahar and hired the services of Aslam Farikullah, Lotus will be continuing with their planned releases. At the show this year, Lotus displayed the new Lotus Exige S, a car thats had fantastic reviews already. The Evora GTE was also present. Hopefully customers will start receiving their cars some time in the near future. A number of historic racers and Formula 1 cars!

Stay tuned for more Lotus images, featuring the best of the huge range of racers Lotus has on display!