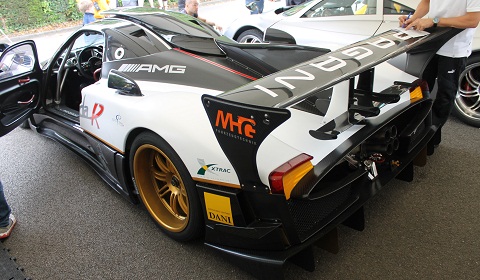 Pagani are using the Goodwood Festival of Speed 2012 to present the Pagani Zonda R Evolution. It's the first time the car has been on public display, although we can confirm that it has been testing recently at the Nurburgring. Details are still emerging but we can give you some initial specs!
The Pagani Zonda R Evolution will be driven over the weekend by Bernd Schneider. It features a 800hp-strong V12 AMG engine, an improvement in weight distribution and a new set of aerodynamic parts. Taking a look around the car, we noticed a new central wing, much the same as the Zonda 760 RS we saw recently. A second horizontal rear spoiler has been added below a redesigned whale-tail wing.

New aerodynamic gurney flaps have been fitted at the front and back. The changes should result in a small lap time improvement and better aerodynamics. We'll have more details on the Zonda R Evolution soon so stay tuned!