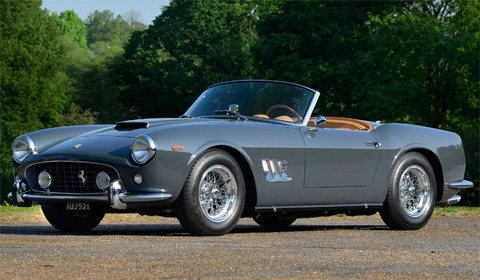 A rare classic Ferrari SWB California Spyder, regarded by many as one of the most beautiful cars ever built, is now being offered for sale.
The design was made by Pininfarina and the bodywork was built by Scaglietti. Ferrari has built about 55 units of this great car, and this example is one of the last three built. The 250 GT SWB California Spyder is powered by a 3.0 liter V12 engine which provides 280 horsepower. This enables the Prancing Horse to sprint to 100km/h in eight seconds and to reach a top speed of 240km/h.
This model comes with an interesting history. It was old new to the Marquis Medici de Vascelo of Turin in 1963. The Marquis sold the open Ferrari two years later to former race driver Franco Rol, who sold this car in 1969 to Ruggero Manca. He exported the SWB California Spyder to the United States where this car somehow changed owner for $4,500.
This model has not only appeared in a few car shows, but also in the movie Charlie Angels 2 where it was driven by Cameron Diaz. When the Ferrari left the factory is was coloured grey, but one of the owner eventually repainted the car red. During its last renovation it was returend to its original colour.
This Ferrari is set to become one of the most expensive cars for sale after Talacrest, an English dealer put it on the market for a whopping £5 million, which equals €6 million or $7.8 million. Back in 2008, a 1961 SWB that had been owned by James Coburn was bought by British radio DJ and Ferrari collector Chris Evans for the record price of €7 million.