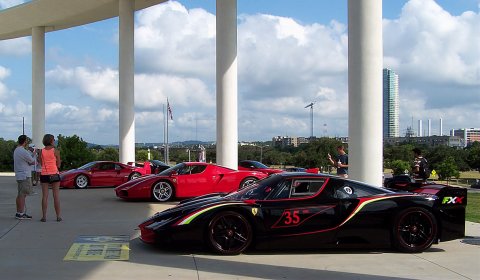 This next gallery below shows a series of pictures from the Formula Expo and Ferrari Festival Car Show in Austin, Texas. The events were held ten days ago.
The Formula Expo included Michael Schumacher's 2000 Ferrari Formula One Race Care, Risi Racing's Ferrari 458 Italia GT3 Race Car, debuting GodStoneRanch's "Heart Car!". The Ferrari Festival Car Show featured a very rare Ferrari FXX (one of 38), two Enzo's, F40, California, 599 GTO and 458 Italia just to name a few.
Proceeds helped raise $10,000 for the organization "Your Ride Is Here!" www.yourrideishere.org
Thanks to Tiffinie Edge!