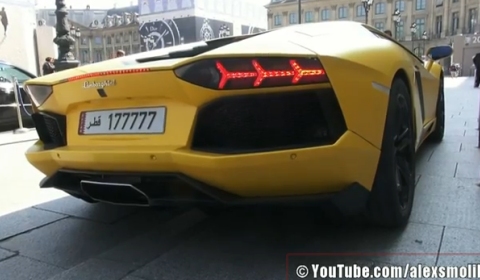 This Matte Yellow Lamborghini Aventador LP700-4 from Qatar was spotted in Paris by our representative Alexsmolik. It has black rims/wheels and the interior is black and yellow.
The paint seems to be original from the factory considering there is no trace of a wrap job, from what Alex has seen. Pretty good-looking car!
Just a small recap, the Aventador is powered by a 6.5 liter V12 with an output of 700hp and 690Nm of torque. The cars weighs just 1,575 kilograms (3,472lb) which gives it a power to weight ratio of 2.25kg/hp or 4.96lb/hp. The Lamborghini Aventador accelerates from 0 to 100km/h in just 2.9 seconds and the top speed is 350km/h.