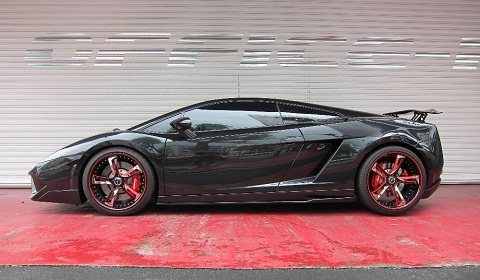 Tokyo-based tuning workshop Office-K recently finished work on a custom Lamborghini Gallardo. The project features aero parts from the LB Performance range with a new exhaust and a set of wheels too. It gives the Gallardo a new look that blends the standard Gallardo features with those of the Superleggera and the LP670-SV.
The bodykit features LB Performance type II front bumper with spoiler, side skirt, rear diffuser and rear wing version III. The parts have been painted black to fit the original paintwork. The wheels are Savini SV32 in sizes 19/20 inch with a mixed black, chrome and red finish. Office-K fitted a Kreissieg exhaust set with the O2 canceller pipe and cat back quad exhaust tips. For added accessibility, a Roberuta lifting system has also been fitted.
Cosmetic enhancements include red paint for the brake calipers, smoked headlights, sidemarkers and tailights, a HID 8000K conversion and a set of LED bulbs fitted to various locations. To finish off the stealth look, logos have been painted black. The interior remains standard.