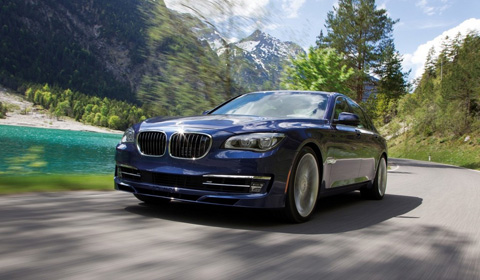 BMW's main competitors Mercedes and Audi both offer high-performance versions of their top models. Mercedes has the S63 AMG and S65 AMG, Audi offers the S8, but there isn't a BMW M7. Those who want a high-performance version of BMW's flagship model there is the Alpina B7. And now the Alpina B7 has been enhanced in-line with updates to the 2013 BMW 7 Series Sedans including more power, more performance, and more efficiency.
Whereas the previous Alpina B7 produced 500 horsepower and 700Nm of torque, the updated powerful and luxurious sedan now features an additional 40hp and 30Nm, resulting in a total output of 540hp and 730Nm. The 4.4 liter V8 is paired with a new eight-speed transmission. The sprint from standstill to 100km/h is done in 4.3 seconds and the top speed is now an impressive 312km/h, which makes the updated B7 30km/h faster than its predecessor.
The Alpina B7 will be offered in short and long wheelbase models, with optional xDrive. The car rides on the iconic 21-inch Alpina 20 spoke wheels, which are the most noticeable feature on the outside. Other modifications like the rear spoiler and renewed front- and rear bumpers are quite subtle. Optional are full LED headlights, new exterior colors and interior upholstery choices in-line with the 7 Series update and a Bang & Olufsen sound system.
The renewed Alpina B7 will make its debut at the Pebble Beach Concours d'Elegance in August and will go on-sale immediately thereafter. Pricing starts at $128,495.