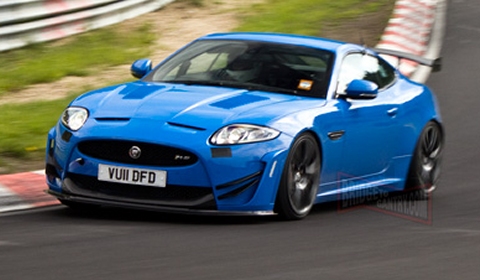 The guys over atBridgetoGantry.com spotted this pretty unique and enhanced Jaguar XKR-S lapping the Nurburgring. The 550hp-strong British sports car received a huge front, dual canards at the front splitter and a massive rear wing at the back. These parts influence the aerodynamically downforce of the car and have a dramatic effect on front-end grip and feel in high-speed corners like those on the Nordschleife.
The pictures follow after a story we shared with you four months ago. In this story we mentioned Jaguar's global head of communications Frank Klaas who said that the British company is considering a special and more hardcore variant of the XKR-S coupe. This special edition Jaguar XKR-S would compete with cars like the Porsche RS-, Lamborghini Superleggera- and Ferrari Scuderia-models.
The special edition would loose the rear seats and feature modifications such as a fire-suppression system, racing seats, a roll cage and aerodynamic enhancements. This particular XKR-S would also be developed at the Jaguar Test and Engineering Centre near the famous German circuit.
So what are we looking at? Is this the test mule of the new Jaguar XKR-S Nurburgring Edition?