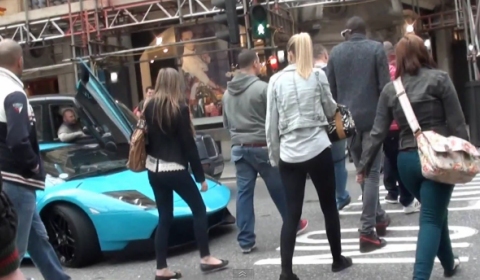 Following on from the Supercarsoflondon video of the man becoming angry on the the owner of a Lamborghini Murcielago LP640 who revs his car a little shared with you earlier today, we can share another interesting video including a Lamborghini Murcielago, an owner from Arabia in London and his pretty short fuse.
The ex-Althani and Turquoise Lamborghini Murcielago LP670-4 SV was at the end of Basil street in London waiting to drive down Sloane Street, then the door opened. Obscured by a coach YouTube member Munch997 didn't actually see what happened but a group of people started looking over at the owner who was hitting a delivery van then tried to kick it as it passes. We can only assume that the van driver hit the car or upset the owner of the Lamborghini in some other way.
Feel free to share your opinionon his behavior!