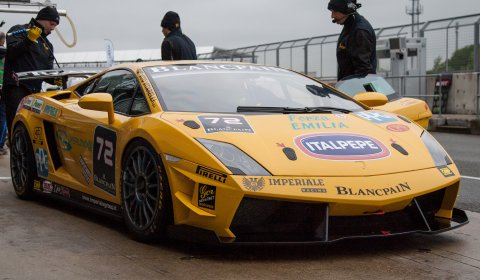 The main attraction of the race weekend at Silverstone was the Blancpain Endurance series. Which consisted of a three hour endurance race, which was covered by Steven Roe and shared with you earlier today. The second round of the Lamborghini Blancpain Super Trofeo took place along side the Blancpain Endurance Series.
The Opening round of the series which took place April 14-15 saw Stefano Comini win both races and dominate the race weekend at Monza.
All eyes were on Adrian Newey who was once the Formula One Technical Guru who was participating in the Lamborghini Super Trofeo Series. He took to the track in the No 1 Lamborghini Gallardo Super Trofeo 570hp V10 which is shared with Alberto Sabbatini who is the Editor in Chief of Italian magazine Autosprint. Qualifying was done in dry conditions but Race one saw very wet track conditions which lasted for the entire race.
There were eighteen Lamborghini's which set out onto the track for Race one, with The No 69 driven by Dellhez/Enjalbert starting from Pole position with a lap time of 2:06.187 a second and a half ahead of No 63 Leimer who was second on the starting grid.
The opening few laps of both fifty minute races was driven under the race car due to the weather conditions. There was a considerable downgrade in lap times from Qualifying with the fastest lap of the race done by No 54 driven by Amici with a lap time of 2:24.227, which was 18 seconds slower than qualifying.
The first race was won by No 63 Cedric Leimer ahead of pole position driver Enjalbert No 69, the second race was won by no 54 Andrea Amici.