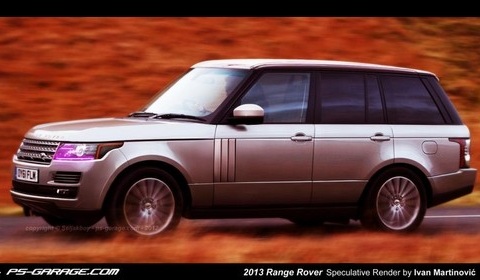 Last week we showed you spyshots of the 2013 Range Rover spotted while testing. Thanks to designer Ivan Martinovic from PS Garage we can now show you a render of how the upcoming Ranger Rover could look like.
The first remark is the inspiration coming from the popular Range Rover Evoque, which is directly visible in the headlights, mirrors and taillights.
The luxurious SUV will arrive next year with lower running costs, more space and an improved performance. The aluminium chassis will reduce the weight by a massive 500kg, resulting in a total weight of approximately 2,000kg. The powertrain will be revised as well, consisting of an 4.4 liter V8 diesel engine which offers 320 horsepower and a eight-speed automatic gearbox with stop-start system. Thanks to these upgrades, the fuel economy will be improved just as the emissions will be reduced.
The fourth generation Range Rover will also be available with a diesel powered V6 and a more impressive 5.0 liter supercharged V8. According to rumours, a hybrid is in the pipeline as well.