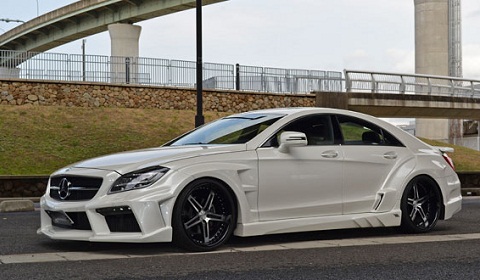 Vitt Performance latest model is based on the W218 Mercedes-Benz CLS. We've seen some fantastic enhancements for the latest CLS, the Wald Black Bison, the Carlsson CK63 RS and the Brabus Rocket are examples that immediately spring to mind. We're not too sure about this example though, the Japanese tuner added a full set of cosmetic enhancements to the German saloon car. Take a look and see what you think.
The aerodynamic kit consists of a new front bumper, a set of front and rear fender extensions, a side skirt, door panel and a new rear bumper. The look is very aggressive, the front bumper gets massive air intakes with a set of horizontal led daytime running lights. The fender extensions add further air vents and a lot of width the the car. The side skirts and door extensions have a similar effect creating lots of new lines and holes.
At the back, the new rear bumper incorporates an interesting rear diffuser with a full length rear spoiler. Vitt performance also offer an exhaust system for the CLS with oval RS-style tips. The price for the full body kit is 1,155,000 yen which is 11,573 euros at today's exchange rate. The exhaust price has not yet been announced, the spoiler will cost you 134,400 yen which is 1,346 euros at today's exchange rate.
Outside of Japan, Vitt Performance products are distributed by Jonari in the US and at Vitt's Bangkok shop. Availability in Europe will depend on what Jonari or Vitt Performance can arrange.