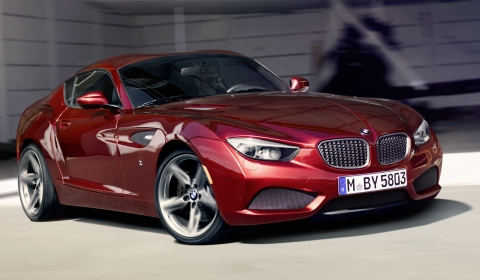 The Concorso d'Eleganza Villa d'Este will see the release of a collaboration between Milanese coachbuilder Zagato and German car builder BMW. The BMW Zagato Coupé is the name of the new one-off model.
The body of the BMW Zagato Coupé is based on the current BMW Z4 series and has been built entirely by hand. The Zagato experts spent many hours crafting the aluminium sheet metal by hand and moulding it to give the car its unique form. The design features an extremely long bonnet, greenhouse set well back, double bubble roof and Kamm Tail. At the front there are twin circular headlights, a kidney-shaped radiator grille and BMW logo.
The stand-out detail here is the use of countless small matt Zagato "z" letters to make up the kidney grille. Viewed from the front, the "z" letters appear to be floating within the kidneys. Close-up, it is clear that they are set against a collection of other dark-coloured "z"s positioned into octagons. Gleaming chrome "z"s are used only on the visible side of the octagons.
Another characteristic Zagato design theme is the specially designed "criss-cross" transition from the side windows into the rear window. The 19 inch light-alloy wheels in classically sporty five-spoke design have a hint of propeller about them and look back at the history of both brands. A special highlight of the BMW Zagato Coupé is its paintwork. The exclusive exterior paint finish Rosso Vivace offers an expressive shade of red.
There is no technical information on the powertrain or suspension, this new one-off focusses only on the design and collaboration between the Germans and the Italians.