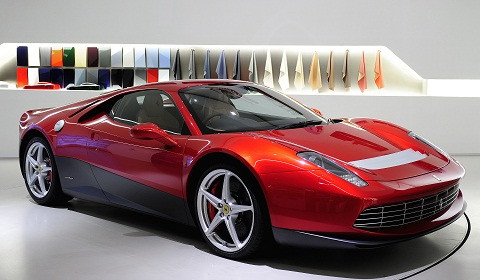 Ferrari released a set of photos and an article featuring Eric Clapton's Ferrari SP12 EC today. It's the first time Ferrari have directly released details and images of the car. Ferrari Magazine reveals that the car was designed by Ferrari Style Centre in collaboration with Pininfarina. Ferrari engineers then built the car as a homage to Clapton's career and his long-term dedication to the Ferrari brand.
The bespoke Ferrari features elements of Clapton's favourite Ferrari model, the Ferrari 512 BB. He has owned three examples of the 512 BB and wanted to bring this car's style up to modern standards using the Ferrari 458 Italia as a base.
Ferrari quote Eric Clapton as saying that embarking on the project was like "being in front of a gigantic blank canvas that had to be painted on" and that being involved with the birth and development of the car was "an incredible experience, one of the most satisfying things I've ever done".
The Ferrari SP12 EC was first revealed in March 2012 when Luke Gilbertson spotted it in the window of the Knightsbridge, London Ferrari dealership. Shmee150 then managed to sneak a video of the car leaving the dealership and since then, all we've seen is a set of patent drawings.
The name means Special Program 12 (for V12 tribute) and Eric Clapton, the name of the artist. It is powerd by the same 4.5 liter V8 as the Ferrari 458 Italia.